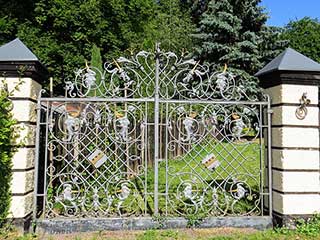 Gate Repair McKinney is an established and well-reputed name in the Dallas-Fort Worth area. When it comes to the gate repair and replacement industry on this part of Texas, we're leading the charge. Over the years, we built a team of trained technicians who have mastered the art of solving all problems related to driveway gates and electric openers. This includes garage doors as well as chain-link and wooden gates. We're committed to helping anyone who finds themselves in a precarious situation. If you discover a problem with your driveway gate or you need a new part installed, we're the team to call. The same applies if you're looking to add a new steel or wooden gate to your property.
Affordable Repair Solutions
The gate is an indispensable part of the overall security system at your residence. If it stops functioning, it leaves you exposed to security breaches. Not to mention, if the gate gets stuck, it creates a major hindrance. This is why Gate Repair McKinney offers same day troubleshooting on a daily basis. Our solutions are tailor made to suit the immediate needs of every customer. If your gate hinges need repair, the track got bent or the gate chain broke, you can get a same day solution Sunday through Saturday.
Our Expert Services
Gate Repair McKinney offers a range of different services, covering all gate-related needs. You can divide our services into two categories.
Gate Repair Services
These services are geared towards fixing problems and conducting troubleshooting on malfunctioning gate openers. This includes minor repairs as well as complex part replacement. Whatever the system needs, our technicians deliver.
Gate opener repair – seeing as this is the main power source of the automatic driveway gate, it needs expert servicing when things go wrong.
Gate alignment – reinstalling sliding gates back into their tracks and repairing dents in order to prevent the problem reoccurring.
Intercom system repair – includes troubleshooting and wire replacement. Covers both wired and wireless gate intercoms.
Hinge welding repair – for iron gates and wooden ones. The hinges of swing gates can wear over time and start to squeak. To prevent them breaking too soon, make sure get them lubricated and serviced when needed.
The technicians here at Gate Repair McKinney also conduct thorough safety tests. That means realigning gate sensors and checking and fixing loop detectors. This all helps to ensure your residential gate stays fully functional.
Gate Installation Services
When your driveway gate starts depreciating beyond repair, your best choice is to install a new system. Gate Repair McKinney offers free estimates on driveway gate installation. What can you choose? Here are some popular choices:
Wooden gates – offering beautiful curb appeal and a classic sense of elegance.
Steel gates – for superior durability and enhanced security. Metal gates come in a range of thicknesses and weights.
Aluminum gates – a low maintenance, lightweight option that's cheap and simple to install.
Chain-link gates and chains – perfect for creating a secure perimeter without obscuring visibility.
Swing gates – opening inwards or backwards with a single or double door structure. Wrought iron gates are a popular choice for this type of system.
Sliding gates – moving laterally across a track, requiring minimal front or back clearance. Perfect for properties near busy streets and main roads.
Custom gates – you choose the material and the operation method that best suits your property, needs, and budget.
Gate opener replacement – get a new articulated arm model or an underground opener installed. Whichever model that best fits your specific needs.
In addition, we provide complete replacement for gate openers and intercoms of all types. Working with major brands like LiftMaster, FAAC, and Eagle allows us to ensure superior product quality. Our services also include worn parts replacement. This applies to gate hinges, tracks, chains and more.
Driveway & Security Gates Near You
If you are seriously struggling to make your faulty residential gate work, let us know. Gate Repair McKinney offers the complete service package, ranging from minor troubleshooting to new installation. We provide cheap gate and fence repair and installation services to the entire Dallas, TX region and areas near Fort Worth. With free estimates on custom gates and same day repairs, you know who to call for any issue.