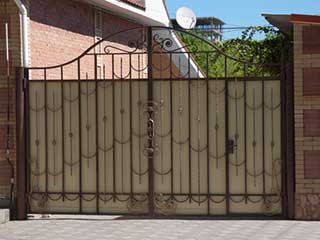 If you have a large property, you likely already have quite a large driveway gate out front. But even if you're not looking for a new residential gate, you can still come to need some sort of service eventually. Whether it's a new gate opener, other accessories or even upgrades. Modern life is changing rapidly, and it's important for us to do what we can to keep up. Of course, your residential gate can require some repairs after a while. Whether due to an unexpected accident or gradual wear and tear. Whichever type of service you need, Gate Repair McKinney can provide the assistance.
Solar Powered Gate Openers
You can nowadays purchase openers that come with solar panels. They collect the energy they need to operate during the day and save excess in a battery. With these special gate opener builds, the need to plug the system into the main power supply is reduced or completely unnecessary. Lower your electricity bills in the long term and do your bit to embrace green sustainable energy. You've got a range of customizable options when it comes to solar-powered residential gate openers, so get in touch with us to know more.
Residential Gate Intercom
This might not be the most cutting edge system that you can apply to a residential gate, but it is one of the most impressive. It doesn't need to be a traditional intercom. A buzzer will do the same job. You can even link the call to a landline or to your smartphone, instead of an individual channel. Whichever method suits your preference. Gate intercoms can also connect to the opener. This allows you to put the days of having to answer the gate in person behind you. Security gates are often designed to maintain distance between the caller and the receiver. A buzzer or intercom system does just that.
Smart Gate Openers
The very best residential gate openers will come with the capability to sync with smart devices. You might have already started getting used to controlling many of the things in your home with an app. Well, now you can add your driveway gate to the list. This is both incredibly convenient and great for security. It's easy to lose keys and easy to replace remotes. However, everyone always tries to take so much more care with their far more precious phones and mobile tablets. Why overcomplicate things? Have all your remote controls in one place with a Wi-Fi enabled smart gate opener.
Expert Residential Gate Services
If you need professional gate services of any kind, let us know. You can contact the team here at Gate Repair McKinney for help with every aspect. We offer free estimates on automatic residential gates, ready-made or custom-built. All our electric openers and intercoms are quality brand name models. If you have a gate that is slowing down or behaving strangely, a cheap repair solution is a phone call away. Whatever you need, our residential gate experts can help. Contact us anytime for same day gate troubleshooting services anywhere near the Dallas–Fort Worth area.
Count on our team for:

Ramset Gate Openers

Parking Garage Gates

All-O-Matic Opener

Commercial Gate Service