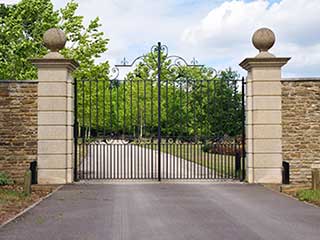 The look an iron gate can give your driveway is timeless. The ornate designs available of some iron bars can bestow the impression of old-world charm to your property. There are many driveways in McKinney with iron gates. Regardless of the age of the home, these gates give their houses incredible street appeal and add value to the homes when it comes time to sell. In many ways, an iron driveway gate with a matching fence will frame your property keeping your pets and children safely enclosed within, and keep strays and uninvited guests out.
Custom Iron Gates For Driveways
At Gate Repair McKinney, our policy is to leave every one of our valued customers smiling. That's why, in addition to our fantastic range of intricately designed iron gates and fences, we also offer you that personal touch. Talk to our expert consultants and we'll help you design a custom iron gate and fences to match. Whether you are looking for a traditional wrought iron gate, or you'd like something a little more contemporary, we'll work with you and create the perfect gate and fence for you.
Driveway Gate Maintenance Services
Life is full of ups and downs and your iron gate will need a little bit of maintenance and repairs from time to time. In McKinney, we are the company to call when your iron gate needs attention. We offer a full maintenance check and professional repairs for any issue. If your iron gate hinges have become loose or the sliding track is bent, we'll go over your gate and address any problems we find. Iron gate repairs are our specialty and we only send fully qualified technicians to your premises. Our repairmen are efficient and friendly and will answer any questions you have about your iron gate.
Professional Gate Repairs
Problems with your iron gate can be quite frustrating. Too often, we seem to be rushing from one place to another and a gate that won't open or close properly is an annoying inconvenience. Perhaps your iron gate problem is the result of someone knocking the car while they were passing through your gate. At the first sign of trouble, call Gate Repair McKinney and we'll send a qualified repairman that same day. If you live in the McKinney area, we'll get to your iron gate as soon as we can.
Iron Gate Installers Near You
When it comes to iron gate installation, we only use the best materials and the best people to put your gate together. Your iron driveway gate is the first point of entry to your home and you want it working at its best. If you already have an iron gate, call us when you need quality repairs or maintenance. Our local team of gate repairers and installers can fix your gate on the spot. Pick up your phone and call us today.