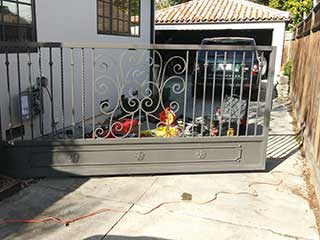 Gate Repair McKinney is committed to keeping your home's first line of defense as secure as possible. Driveway gates are an essential part of every homestead for security, aesthetic and convenience reasons. When things go wrong and problems occur, you need a solution and you need it fast. That's what our service technicians are here for. As strong as they are, garden and driveway gates are still liable to take damages from any number of sources over time. Therefore, ensuring your home stays properly protected means having the right partner to assist you. Whenever you need gate repair services, know that you've got us to call.
Rotten or Rusted Gate Repairs
If you've owned a metal or wooden gate for a while now, you probably know how moisture can affect these materials. Wooden gates tend to splinter in the sun or lose integrity from rot under adverse conditions. On the hand, metal gates tend to rust after a while. While initially the wooden and metal doors receive protective coatings, those gradually deteriorate. As your gate starts to rot or rust, its curb appeal isn't the only aspect that degrades.
A Neglected Gate Compromises Security
That's right. It's more than just an eyesore. Your home's security also stands in the balance. A driveway gate in poor conditions will not protect your property as well as it can. Each material requires different repairs. Rust needs sanding off and painting over or welding. Rot requires cutting out the affected parts and adding fillers. Whatever the required task, leave it to Gate Repair McKinney to handle it expertly. And for cheap too.
Tracks and Hinges
Different types of driveway gates will stand susceptible to different issues. A sliding gate, for example, moves along a track. If the gate wheels break or the track bends, you're likely to find a stuck gate on your hands. With swing gates, you've got to worry about the hinges. These parts can rust and/or wear out. Regular gate hinge lubrication will allow you to avoid frequent repairs. This reduces the friction that causes the wearing. But sometimes the swing gate hinges will need replacement. When that's called for, you'll want to let experts handle the task. Mishandling gate repairs will lead to more expensive problems and potentially to dangers too.
Gate Opener Repairs
When your electric gate is not closing, it could point to a problem with your opener. Gate motors are responsible for powering the system and allowing you to control it remotely. But unfortunately, accidents resulting from extensive use or other factors may cause electric gate failure. If a sliding gate starts to reverse without explanation, the problem could lie with the sensors. Or maybe the gate opener circuit board has a malfunction. Sometimes the problem requires a simple adjustment or some wires replaced. Other times, you'll need thorough troubleshooting and potentially to replace the electric gate opener entirely. Whatever the problem, you can get a cheap repair solution any day of the week. You only need to let Gate Repair McKinney know you need a helping hand.
Expert Repairs For Automatic Driveway Gates
If you need major or minor gate repairs, let us know. With a same day response policy and cheap rates on reliable solutions, it's easy to see why Gate Repair McKinney is one of the most popular service teams around. If you're near the Dallas County area, give us a call whenever you need gate repair services.
We also offer:

Gate Opener Keypads

Steel Gates

Phone Entry Systems

Ornamental Iron Gates