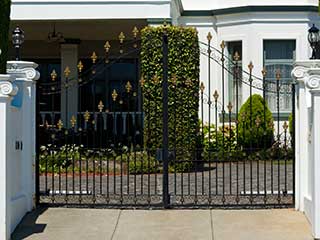 If you've come to this page, you're probably looking for the cheapest and most convenient gate repair services in McKinney. If you aren't, sorry, you've come to the wrong place. If you are, then welcome! Automatic driveway gates add a lot of security and serenity to your property, residential or otherwise. If you have an opener give out or a track jam up, though, the results are neither secure nor serene. Driveway Gate Repair McKinney gives you the best value on repair and replacement of all sorts of automatic gates. You'll be grateful you went local!
Jammed and Broken Gates
Any machine with moving parts can jam if it gets dirty or rusty. Wooden driveway gates can rot or splinter, and metal driveway gates can rust. If you have a chain-link driveway gate, deformation of the tracks or opener chain can make the system inoperable. And, of course, any opener will have problems if dirt, moisture, or insects get inside. Our team's skillset includes welding, carpentry, and electrical wiring repair. With just one phone call, you can have them at your address rebuilding any gate component that needs it.
Driveway Gate Intercom Problems
An automatic gate is even more convenient when you can choose who to let inside from the safety and comfort of your home or office. To do that, you'll need a working intercom system. If your driveway gate uses a wired intercom, the connection can be brought down by tangled wires, stripped connections, or damaged insulation. If it's wireless, you could have issues with radio transmission, power supplies, or signal propagation across your property. Our team offers intercom repair, and fresh intercom system installations or upgrades. With the newer models in our inventory, you can even connect your gate's intercom system to your smartphone. That way, you can hear about new arrivals as they come and let in guests and relatives no matter where you are.
New Gates For Driveways
If you need a driveway gate installed from the get-go, Driveway Gate Repair McKinney has your back. Cheap driveway gates, like aluminum or light polymer units, can be effective deterrence against home intruders, and very resistant to rust and corrosion. If you want something heavier, a steel driveway gate or an elegant iron one might be more to your liking. Heavy polymers, wood, and composite structures are all on the menu as well. You can also have your gate installed with a wide range of openers, batteries, and chargers, as well as intercoms, security cameras, and other extra features. All new gates come with free estimates, and most components have generous warranties.
Gate Repair & Installation Specialists Nearby
Whatever driveway gate needs you might have, our company is eager to rise to the challenge. Give us a call today, and let Driveway Gate Repair McKinney put our money where our mouth is!