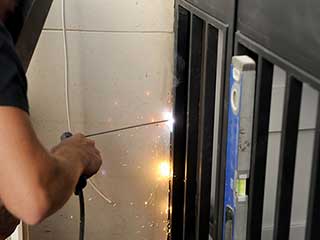 Whether you're looking to invest in privacy, protection, or simply a little extra curb appeal, our range of attractive gates is perfect for you. Choose from custom gates and fences in a huge selection of materials and designs. You're spoilt for choice, with everything from real wood garden gates to custom iron gates on offer. Our team of experts, based in the McKinney area, will walk you through all the available options and help you pick out the perfect entrance for your property. To get started, just contact Gate Repair McKinney today for a free, no-obligation estimate.
Low Cost Steel Gates
For high-quality protection for your property, choose custom steel gates. These entrances are a highly effective way to prevent intruders from accessing your property. Steel is a very strong material but is relatively lighter than other options. Though it's as strong as iron, steel gates typically use less material, resulting in a lower overall weight. This makes it an effective and efficient barrier for any property. Of course, steel needs to be protected from corrosion, so regular maintenance is essential. It's also important to note that a typical steel gate does not block sightlines into your property, whether it's a chain-link gate or constructed using other techniques.
Most Affordable Iron Gates in McKinney
A custom iron gate at your property makes a real statement. This is a great way to impress visitors and can make your home feel far more attractive. Iron has been used for hundreds of years, and while most modern construction relies on steel or aluminum, iron is undeniably more attractive than either. Because of the way iron is forged, it can be turned into intricate patterns and shapes that other metals simply can't achieve. Like other metals, though, iron is a heavy material and is typically forged into thin strips. This means an iron gate won't block the line of sight, so it tends not to provide much privacy by itself.
Cheap Wooden Gate Options
Perhaps the most popular choice of all is a wooden gate. These sorts of setups are strong and long-lasting, and bring an unmistakable air of elegance to any McKinney property. What could create a better first impression than a real timber entrance? Also, large wooden panels and pickets can be used to easily cut off sightlines into your property. If you want more privacy, then we recommend choosing wooden gates and speaking to our team about the best way to keep prying eyes away from your home. Make sure your custom wooden gate is protected from the elements, though, or it may absorb moisture and start to rot.
New Gates Installed Quickly
Go ahead and get a free estimate on any type of security or driveway gate you want. The range of available options has something for everyone. Our selection of custom gates gives you everything from swing iron doors to sliding steel slabs. Take the next step today by arranging a free quote from our the best gate installers near McKinney. Find out about all the pros and cons of wood vs iron and sliding vs swing gates and choose the option that best suits you. We'll help you decide on the perfect gate for your home or business, which would cost a lot less than you think.