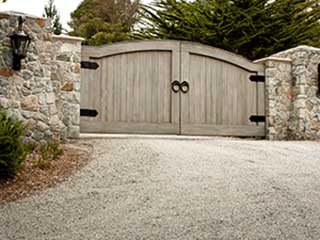 What looks better than a real wooden gate welcoming people to your home? Visitors will be impressed with the real timber, which makes any home appear distinguished and attractive. You'll always be glad to get home, too, with a home that looks this good. Real wooden gates and fences make all the difference to a property, and we're proud to offer the best service in the McKinney area. Why not get in touch with us today and arrange your free estimate?
Why Are Wooden Gates So Popular?
Homeowners all over McKinney have installed wooden gates at their properties. It's not just because wood looks fantastic. It's also because this material is very durable and hardwearing. With the right maintenance, you can rely on your driveway gate to last many years. You'll also discover that wood is a very flexible material and can be turned into a huge variety of styles and designs. Just take a look at the amazing range of options we have on offer to see what we could install at your home.
Low-Cost Wooden Gate Installation
Installing your new gate doesn't have to be expensive, but make sure you get it done by the professionals. The Gate Repair McKinney team has years and years of experience fitting these systems, so you can be sure that your new entranceway will look great and work perfectly. Take all the guesswork out of installing a new wooden gate by contacting our McKinney-based team today. We're happy to provide a free estimate and advice and guidance on the best wood gate option to choose from. There's no obligation and nothing to lose, so why not get in touch today?
Cheap Rates For Wooden Gate Post Repairs
If you find that your gate is sagging, it could be a problem with the gate post. This can sometimes be due to corrosion and rot, or an issue with the post foundations. When things go wrong, we're the team to contact. Our technicians are based in the McKinney area, so you can be sure you'll get fast service when you need it the most. We can handle anything from minor repairs to new gate post-installation. If you're having trouble with your gate post, don't hesitate to get in touch.
Affordable Wooden Gates And Fences In McKinney
We're proud to be the nearest McKinney wooden gate specialists when it comes to repair and installation. We offer custom wood gate designs that provide excellent privacy and protection for your property, keeping prying eyes and intruders away from your home. If you'd like a free estimate on new wooden gates for driveways or surrounding fences, get in touch with us to schedule an appointment. Our team is always happy to help with quotes, advice and of course – same-day repair solutions at the lowest prices around.