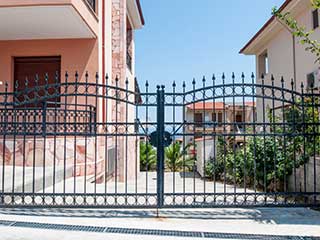 The team here at Gate Repair McKinney offers a wide range of repair and replacement services. This includes fixing major gate parts like automatic openers, driveway chains, and belts. We also provide troubleshooting for phone entry systems, i.e. intercoms, and more. In addition to miscellaneous maintenance services, you can also turn to us if you're looking to get a new electric gate installed.
Why Should You Choose an Electric Gate?
In households and commercial properties, people often prefer to fit electric gates over other types. Why? Because of their ease of use and modern technological innovations. These are often cited as the reasons for installing automatic gates. Such types of entry systems are more complex, though. Electric gates require industry-trained technicians to handle in case of malfunctions. Similar to their mechanical counterparts, they consist of multiple mechanical moving parts. The difference is that they also house various electrical components. Hence the name – electric gate. The main difference, though, is that electricity powers and controls the entire mechanism. An automatic gate saves you the trouble of manually opening and closing the leaves/moving the sliding panels. Many residential and commercial property owners in McKinney and nearby choose electric gates for these reasons.
Various Gate Types to Choose From
Electric gates are available in both swing and slide types. Customers can select the best type for them, depending upon their tastes and the conditions of their driveway. With an average sliding gate, the motor is usually attached at the bottom on a stationary pole. The warded metal bar moves in and out of this motor in order to open and close the sliding gate. Whereas, in a swing gate, openers fixed on the railings of the doors (also known as leaves) trigger the operation. In both cases, all commands go through electronically. Users can then choose to have manual or automatic control over their electric gates. Meaning – do you want it to open automatically or wait for you to order it? If you're near McKinney, you've got our electric gate experts to consult with.
Electric Gate Repairs
Naturally, the complexities of electromechanical systems can lead to various issues over time. If you have experts install your automatic gate, you'll avoid plenty of problems. But still, some malfunctions result from wear and tear over the years. If the gate starts reversing, for example. Or the gate gets stuck and doesn't open or close when you use the remote or other control methods. These are often issues that inflict automatic gates. But don't worry too much about them. You can rest assured that the experts at Gate Repair McKinney know how to quickly troubleshoot and fix them.
Tie-Ups with Well-Known Brands
Gate Repair McKinney only works with the best parts and models available today. As a local gate company that provides complete solutions to all areas near Dallas, TX, we made associations with some of the most popular brands in the business. These include Elite, Eagle, All-O-Matic, and LiftMaster (who also make garage door accessories and openers) to name a few. These companies manufacture high-quality products of different sizes and forms. Customers looking to replace worn-out or outdated parts can select from huge inventories of these electric gate brands. Additionally, we also have alliances with local brands. That way compatibility issues don't interrupt our efforts to provide excellent services.
Professional Electric Gate Services Nearby
Automatic gates powered by electricity need to more careful handling than mechanical ones. That can mean doing some regular maintenance or replacing fried or worn components occasionally. Whatever you need, Gate Repair McKinney can certainly help. Contact us whenever you need same day gate repairs. If you want, we also offer free estimates on electric gate installation. Whatever you need regarding openers, intercoms or other accessories (like keypads), you can consult with us to get expert answers.
Want more? Let us take care of:

Swing Gate Adjustment

Linear Gate Intercoms

Doorking Gate Opener

Gate Exit Sensor Installation