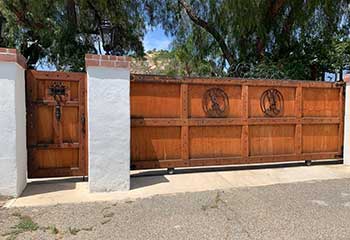 Wooden Gate Installation
Customer Issue: Mr. Straits' old family plot's driveway gate was falling apart. He decided to invest in a more durable and aesthetic automatic hardwood gate.
Our Solution: A classic, ranch-style rectangular double swing gate formed the basis of this system. With a LiftMaster CSW200 top-mounted swing arm twin opener, this elegant beechwood gate opens smoothly and almost silently. We hooked up a wifi connected intercom system and synced the opener to Mister Straits' car remote as well.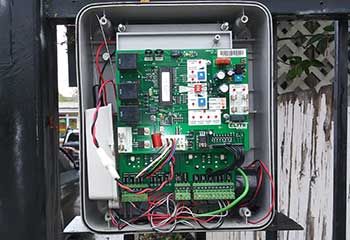 Gate Opener Repair
Customer Issue: The customer's office parking lot had a driveway gate not responding to open commands.
Our Solution: Since the opener responded to close commands without issue after manual opening, we knew it couldn't be the engine or the antenna at fault. It had to be a logic board issue. After rebooting the system didn't help, we tried replacing the opener's motherboard and rebooting it again. The new motherboard solved the issue, letting the gate function as intended.
Jasmine Delapore
- McKinney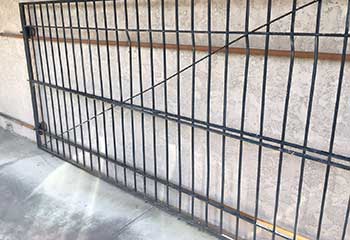 Iron Gate Repair
Customer Issue: A drunk driver inflicted some nasty structural damage on the Carruth family's iron gate.
Our Solution: The impact cracked three bars of the iron gate, and broke the lock keeping the gate in its closed position. We were able to straighten and weld two of the bars back together, but the third was too broken. We had to remove it and weld a replacement in place, as well as installing a new locking mechanism.
Justin Carruth
- Fairview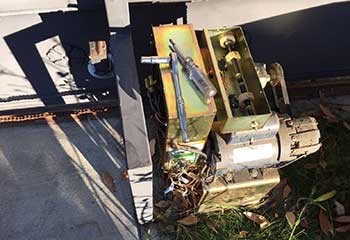 Electric Gate Repairs
Customer Issue: The customer's gate battery would not recharge, even after changing it. There had to be an electrical problem.
Our Solution: Testing the battery revealed that it was charged after all. After taking the opener apart, we found a stripped wire connecting the battery to the motor, preventing it from being any use. We removed the damaged wiring and cleaned the entire opener interior, and then installed new wires. The battery and opener worked fine after that.